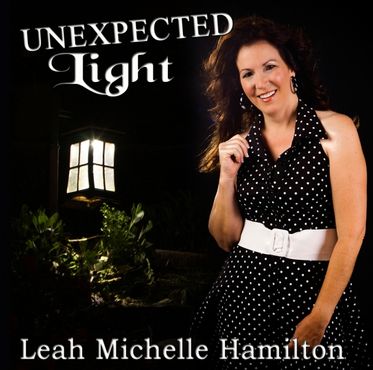 "Unexpected Light" was released December 4, 2010 and includes Leah's two new original songs which will have a regaee beat to one and an Alicia Keyes styling on the second. The well known Christmas cover songs will have new contemporary stylings and vocals.
EVENTS:   "Unexpected Light" was awarded Limelight's "Favorite Cover Songs of 2010." This is such an exciting start for the new CD!
Leah has recently participated in:  Pacific Justice Institute's "Celebration of Justice,"  Black Tie Dinner Gala Evening with Gift CD baskets;  Laguna Hills High School Sport's  Booster FIESTA fund  raiser event;  Acres of Love, a fund raiser golf tournament  for orphans in Africa; Tea Event with American Family Living, Jene & Evie Wilson hosts of radio program "Spread A Little Love Around," KWVE,107.9FM,  KRTM, KWTW, KWTM FM.;  Leah's  CD "Complements" with the Angels Baseball Foundation at the 65 Roses Golf Classic hosted by Mike Scioscia, and honoring Don Baylor.  The foundation benefited the Cystic Fibrosis Foundation, "Emilys Army."   Event in December,  CD gift baskets at Wyland Foundation auction dinner supports  "Clean Water," with Honorary Chair, Jane Seymour.  Performances have also been with live band in Laguna Beach, Monarch Beach, Laguna Hills, Mission Viejo, Rio Linda,  and Placerville, California.
The Orange County Register reported it this way. "Laguna Hills woman is hosting a gala to release her first CD. Leah Michelle Hamilton strives to reach out to others any way she can. As a family therapist, she can get in touch with people everyday while on the job. But through her music, she has found another way to do so. Hamilton goes by a Shakespearean quote, 'If music be the food of love, play on.'" By Alejandra Molina, Staff Writer OCRegister.
Fun Facts:  A character is named and  was modeled after Leah Hamilton in a book by Karen Kingsbury, "DIVINE" A Novel.  Leah made it as far as the Junior Olympics in her track & field days.  Piano playing for choirs and competitions, her Salutatorian Speech, travels to Fiji, England, Scotland, Ireland, Germany, Belgium, France, and Italy are included.  One of Leah's favorite Bible verses framed in her studio room,  "Trust in the Lord God always; for in the Lord Jehovah is your everlasting strength."  Isaiah 26:4